Found – Illustrated Games of Patience a reprint (Frewin, London 1968)  of Lady Adelaide Cadogan's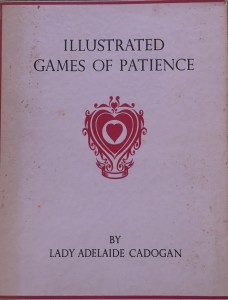 1870 edition, this with an introduction by the actress Margaret Rutherford (memorable as an early Miss Marple). Her piece has a  quirky style  and a good glimpse of the older actress Marie Tempest playing Patience back stage:
They call it Patience– you play patience and, often enough, when you play if you put yourself for all practical purposes into a condition or persuasion of patience. I suppose we have all, at sometime or other, laid out the cards, in our Nursery, in sickness, or at one of those desperate moments of suspense before action, when all preparations have been made, every step been taken, and all that remains is to wait the call.
One of many my most vivid recollections, at the very outset of my career, passing down the corridor on my way to the stage was to see, through an open door, the great Marie Tempest at a table with the cards spread out. She was supreme, glittering and efficient, yet at repose, collected and ready to spring.
But one is not alone when one plays patience. There is an invisible opponent– Yet a comrade! This book presents a picture of him. From lonely palaces in The courts of idleness? Who can say? From some hidden corner of Royal anxiety? From some bereft  age when loved ones were a-far in battle?
I feel a history in this book, and yet it is a picture of a formal, little, courteous Comfort, a quiet, inner Amusement.